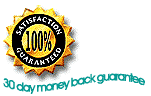 100% Satisfaction Guarantee
We stand behind all of our products. We give you a 100% satisfaction guarantee.

PLEASE NOTE: Some items such as CDs or DVDs CANNOT be returned because of copyright issues. In that case this guarantee is limited to replacing any defective items. Downloaded music is not refundable under any circumstances. It is up to each customer to make sure their computer, operating system and/or browser is capable of downloading at least a 5 MEG file. We strongly suggest you first download our test MP3 file to make sure your system can support it. Click here to download the test MP3 file.